Secular Western analysts of Islamic militancy typically miss the boat when seeking the root causes spurring Muslims to engage in violent jihad. Since the analysts themselves have no galvanizing religious faith upon which they build their lives, they can't imagine that religious faith could be a serious motivator for anyone else — they are blinded by their own bias.
Hence, we often hear in the mainstream media that what really motivates new recruits joining ISIS, al-Qaeda, Boko Haram, al-Shabaab, etc. is not religious conviction but rather a desire to flee poverty and disenfranchisement (as John Kerry argued in 2014),
to topple politically corrupt regimes, to escape the dreariness of a meaningless future, or to combat other social injustices. Only motivations as powerful as these could compel a terrorist to face death willingly. Religious motivations, as everybody knows (in the world of secularism), are silly and groundless, so they cannot provide an adequate foundation to explain the terrorist's mindset. Their dismissal amounts to this: "Since I cannot conceive of the possibility that religious faith might be of ultimate importance, to the point of sacrificing my life in its pursuit, it must not be possible for anyone else" (except, of course, for those who are mentally unbalanced).
As a result, we find that though militant Muslims ascribe their actions to their religion (quoting copiously from the Qur'an, reciting authoritative martial accounts of their peerless prophet, slavering over the sensual delights of paradise promised to those who kill and are killed for Allah (Qur'an 9:111), our elite analysts know better. "Islam," they say, "has nothing to do with terrorism and militancy and conquest. It is a religion of peace. These militants have hijacked Islam and perverted it — they don't really believe it, but are using it as a front for their real agendas — economic advancement, destruction of political enemies, and so on.
However, when one gets a chance to listen to militants who describe how they were originally recruited, it becomes clear that our secular analysts haven't got a clue. Time and again, seasoned jihadis recount that clear teachings from the Qur'an and Sunna (authoritative accounts of the actions and declarations of Muhammad) convinced them that jihad for the sake of Allah was the only acceptable path for one seeking to be a true Muslim.
One such recruit, 38 year-old "Alex" ( a pseudonym used for his protection now that he has been captured by government forces), belonged to the Maute Group, a local terrorist group on Mindanao Island in the Philippines that gave its allegiance to ISIS and carried out a five month siege of Marawi City, effectively leveling the city center and killing over a thousand residents in the process.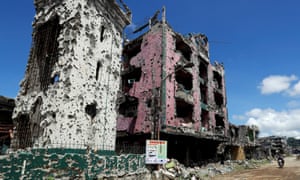 Alex said of his recruiters, "They said 'they're the ones fighting for the true jihad. We're going to fight to the death to defend our religion and we will reap our rewards in the afterlife,"  Most influential in his decision to join the Maute Group along with his 13 year-old son (who died in battle) was the terrorist group's charismatic leader Abu Dar. Alex recalls that "Abu Dar was a great speaker, even better than Omar Maute [one of the founders of the terror group]. He was very knowledgeable about the Qur'an. You will really believe him." 
Still fresh in our minds today are the suicide bomb attacks Easter Sunday in Sri Lanka, carried out by nine local Muslims (with the support of some 60 other Sri Lankans now under arrest and the apparent help of a larger Islamic terror network, perhaps ISIS). Authorities are now reporting concerning the nine suicide bombers that they were all "well-heeled" and "well-educated," from middle- to upper-middle-class families, once again putting the lie to the claims of John Kerry and expert Western analysts that terrorists are made primarily by poverty and social victimization.
Sadly, the culprit turns out to be the religion of Muhammad as taught in the Qur'an, Hadith literature and the early histories of Islam, all revered Muslim documents. Historical Islam is inherently jihadi, and the more seriously a Muslim entertains patterning his/her life after that of Muhammad, the more he/she is drawn to totalitarian violence against all who resist submission to Islam. Its capacity to woo willing pawns eager to kill and be killed for the sake of Allah so that they may earn a ticket to paradise must not be underestimated.
Religious convictions can be the most powerful human motivators toward the advancement of good or the fomenting of evil. Until Western, secular leaders wake up to this fact and decide to face squarely the threat of Islam to Western civilization, we will continue to take body blows to our cherished freedoms and Judeo-Christian values. If we will not define the enemy clearly and precisely, fear and paralysis will lead us to capitulate to those ever willing to tyrannize us until Islamic law reigns supreme.