*With thanks to Stevie Wonder.
According to early Muslim sources, Muhammad was very much a man of his day, shaped by the belief systems around him. As such, his thoughts and practices were filled with superstitions, some of which I will list below.
What reminded me of this topic recently was a news report that this Friday, July 27th, a full lunar eclipse will occur, visible in the night sky of the Eastern hemisphere.
For pre-scientific cultures, solar and lunar eclipses typically caused consternation as people wondered if the gods were angry with them or the world was coming to an end, or both.
Muhammad was no different. In a previous blog, I reported on Muhammad's evident fear generated by a full solar eclipse which occurred in the last year of his life. As the event unfolded, he ran to the mosque and stayed there in prayer until the sun returned to normal, later telling his followers that eclipses are signs sent by Allah to make the people afraid so they will turn to him and seek forgiveness.  As a result, the religion of Islam has developed a ritual prayer meant to be recited by all Muslims during any sort of eclipse. (Of course, this typically applies only to those Muslims for whom the eclipse is visible, not to all Muslims around the world.)
For pre-modern people of a religion so closely tied to watching the moon, a full lunar eclipse is perhaps even more frightening than a solar eclipse. Known often as a "blood moon," the bright white full moon begins to take on an orange-red hue as it enters the penumbra of the earth's shadow. As it enters the full umbra of the earth's shadow, it looks like something out of a Hallowe'en movie, and was taken by ancient viewers as a sign of an impending cosmic cataclysm. I have no doubt that Friday night in the Eastern Muslim world, mosques will be filled with worshipers exorcising their fears and seeking Allah's forgiveness.
But this is not the only way in which Muhammad's own superstitions affect 1.5 billion of his followers today. Since Islam claims that the Arabian prophet is the "perfect man," his life and practices are lifted before Muslims as the most excellent example to follow. To live as a Muslim is to make imitatio Muhammadi your overarching life goal, and early Muslim sources give Muslims a lot of superstitious material to imitate.
In the Qur'an itself, Suras 113 and 114 are incantations which Muslims are meant to recite  when they fear supernatural evil may be around them. Sura 113 seeks protection against "those who blow on knots," and those "enviers who envy." Blowing on knots refers to the practice of dark arts, where sorcerers would recite curses against people in the process of tying knots in ropes and blowing on them.
Muhammad believed these to have true power; indeed, he believed that at one point in his own life as a prophet he had suffered under a spell (woven by a Jew, of course) for almost a year without relief until the angel Gabriel finally revealed to him how to undo it. The reference to envy and enviers is interpreted within Islamic exposition to mean "the evil eye," i.e., the capacity of ones filled with envy to cast a true curse on the one they envy by an ill look. In popular Islam, many methods have arisen to seek protection for oneself or family members from the evil eye in addition to reciting Sura 113.
Sura 114 is an incantation seeking refuge in Allah from devils, jinn and evil humans who do their bidding. The "jinn" are a case in point when it comes to superstition. Muhammad adopted belief in this class of beings from pre-Islamic Arab mythology, holding the jinn (singular, jinni, from which we get our English word "genie") to be unseen supernatural beings created of "smokeless fire" with the ability to wield powers beyond human capacity. While some may be good (i.e., obedient to Allah), most are not — many are not totally evil, but aggravatingly mischievous.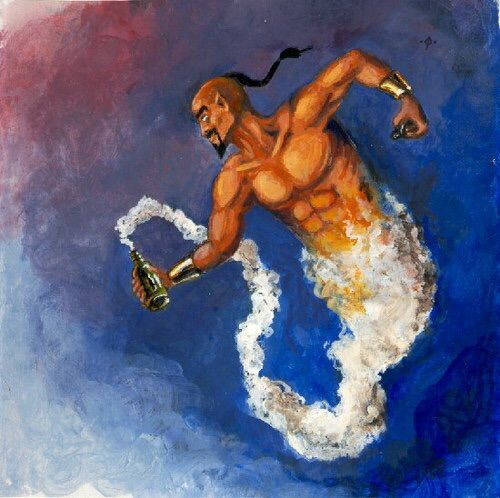 I view them as the desert version of leprechauns on steroids. Because Muhammad believed in these beings and gave credence to their existence through his "revelations," Muslims today are required to believe in them and seek refuge from them.
When we turn from the Qur'an to Muhammad's example as pictured in the early biographies and Hadith traditions, superstitious practices mushroom out of control. If we limit our search just to Sahih Bukhari (the most authoritative collection of traditions of Muhammad recognized by Sunni Muslims, and second in authority only to the Qur'an), we discover an exhausting number of superstitious practices Muslims must incorporate into their lives. Here are some of the more notable ones (with references):
Strong winds are to be feared as a potential sign of the wrath of Allah; the prophet always appeared anxious during wind storms for this reason. (2.17.144)
A man confessed to Muhammad that he could not remember any teachings Muhammad would speak. The prophet told him to spread his cloak upon the ground, then made motions with his hands as if filling the garment with something invisible and commanded the man to now wrap himself in his cloak. The man later testified that he now could forget nothing the prophet uttered. (1.3.119)
According to favorite wife A'isha, Muhammad always started with the right side when cleaning himself, combing his hair, putting on shoes or "doing anything else." (1.4.169)
When "answering the call of nature," Muhammad was fond of reciting, "O Allah, I seek refuge with thee from all offensive and wicked things." (1.4.144)
Likewise, he took care never to have his face or backside lined up with the direction of prayer (Jerusalem or Mecca) when relieving himself. (1.4.146)
If you hope to conceive a baby with your spouse, you must recite these words before starting intercourse: "In the name of Allah. O Allah! Protect us from Satan and also protect what you bestow upon us from Satan." If you are destined to have a child from that sexual act, Satan will never be able to  harm that offspring. (1.4.143)
Two for the price of one: when you drink from a utensil (glass, cup, ladle, etc.), take care not to breathe into it; when you answer the call of nature, do not touch your penis nor clean your private parts with your right hand. (1.4.155)
After defecation, one should clean himself with stones, careful to use only an odd number. (1.4.163)
The prophet stopped at two graves one day, revealing that both the deceased were presently being tortured in their graves for major sins they had committed: the one had soiled himself regularly with urine while the other had spread gossip. Muhammad took a fresh palm frond, split it in half and put a half on each grave. When asked why, he answered, "I hope that their torture might be lessened, till these get dried." (1.4.215 and 217)
Once when praying in the mosque, Muhammad noticed someone had spit on the wall in the direction of the qibla (toward Mecca). He scraped it off the wall and then commanded that if one spits during prayer, it must be only to his left or under his left foot, never towards the qibla, because during prayer Allah is between him and the qibla. (1.8.399)
Muhammad advised that during extremely hot days, the noonday prayer could be delayed till it was cooler, adding that the heat was due to an overflow of the raging fires of hell (1.10.510). For those interested in meteorological training, he taught the following: "The hell-fire of hell complained to its Lord saying: 'O Lord! My parts are eating (destroying) one another.' So Allah allowed it to take two breaths, one in the winter and the other in the summer. The breath in the summer is at the time when you feel the severest heat and the breath in the winter is at the time when you feel the severest cold." (1.10.512)
Wanting to make sure that those in public prayer stayed synchronized with the motions of the imam (prayer leader), Muhammad warned that anyone lifting his head before them imam might discover that Allah will turn his head or face into that of a donkey. (1.11.660). Similarly, if Muslims at public prayer do not take care to keep their rows straight while praying in the mosque, they may discover that "Allah will alter your faces." (1.11.685)
The prophet declared rather sternly that Muslims when praying must not look towards the sky when praying, otherwise their eyesight will be taken from them. (1.12.717)
On the subject of garlic, Muhammad ordered that those who had eaten from this plant should not draw near him or enter the mosque. Apparently the angels along with Muhammad were offended by its odor. (1.12.815)
It is best to arrive early for the noon prayers on Friday, for angels stand at the gates (invisibly, of course) and record when people arrive. The earliest are rewarded as if they had sacrificed a camel to Allah; next are rewarded as if having sacrificed a cow; then a ram, a chicken and lastly an egg, respectively. Once the prayer time starts, the angels fold their papers and listen to the sermon, so if you arrive after the start, you lose any reward you otherwise would have received. (2.13.51). (What a great way to discourage latecomers! Maybe the Church should adopt this "meritorious works" approach….)
It is best to eat an odd number of dates in any one sitting. That was the prophet's practice. (2.15.73)
It is best to pray standing; those who pray sitting receive only half the reward of those seated, while those who pray lying down receive only half the reward of those seated. (2.20.216)
The apostle of Allah forbade his followers from use of silver utensils and dishes and from wearing golden rings and silk (clothes). (2.23.331)
Weeping over the deceased is discouraged, because according to Muhammad the deceased is tortured in the grave when people cry over him. (2.23.379)
When a cock crows, it is because he has seen an angel; you should be quick to ask a blessing from Allah. Conversely, when a donkey brays, it means he has seen a devil, so you should seek refuge with Allah from Satan. (4.54.522)
Salamanders are mischief-makers, and so are to be killed (4.54.525-526)
If a fly falls into your drink, make sure to immerse it completely before continuing to drink, because while one wing contains disease, the other contains its cure. (4.54.537)
Angels will not enter a house that has either a dog or a picture in it. (4.54.540)
If a person eats some 'Ajwa dates, he will be immune from poison and evil magic till that evening. (7.71.663)
At first, Muhammad ordered his followers to kill all dogs, but later limited their slaughter to only those which are jet black, for he said, "It is a devil." (4.28.3210; see also Sunan abi Dawud 16.2840)
Muhammad kissed the pagan black stone embedded in the Ka'aba regularly when he did his pilgrimage. As a result, all Muslims throughout history have aspired to copy this practice in Mecca. (2.26.673; see also 2.26.667)
It is wise to live within earshot of the muezzin's call to prayer for Muhammad revealed that every time Satan hears the call to prayer he flees the area with haste, passing gas loudly as he runs, hoping the noise of his flatulence will hide the sound of the call from his ears. (1.11.582)
There are literally hundreds more superstitions and folk tales which Muhammad took to be true and consequently instructed his followers to align their lives by. All of these can be found in the authoritative Muslim sources. What can we say to all this material?
Superstition is not something we would expect to find impacting the life of an authentic prophet. When one knows the true God, one is freed from fears engendered by folk tales, myths and figments of imagination. Incantations, ritual practices, and mindless routines are jettisoned in favor of intimate and vital interaction with God Himself. As we read the Bible and look at the lives of Israel's prophets and of the Son of God, we are struck by how they destroyed the superstitions of men rather than being shackled by them. Muhammad, however, had no such relationship with the God of the Bible. As a result, his heart became a zoo of superstitions and his mind grew entangled with increasingly complex methods of assuaging his fears and fueling his ambitions.
Now, roughly twenty percent of the human race feel compelled to live under the idiosyncratic worldview of a 7th Century pre-scientific Arab, blindly believing that his life is the most pleasing ever lived before God. Meanwhile, the gospel message of Jesus Christ, which sets human beings free from senseless superstitions, myths and fantasies, is being fought tooth and nail by Muslim authorities who rightly fear that when Muslims hear the truly good news of God's gracious salvation won for all humanity by Jesus they will dump the heavy load of fears and requirements swirling around Muhammad and embrace instead the freedom, grace and love inherent in following the Son of God.
I'm so happy to report that those fighting tooth and nail against God are losing. The gospel is winning Muslims from darkness to the Kingdom of light at exponential rates! The harvest indeed is plentiful, as Jesus promised….
"He who has the Son has life" (1 John 5:12).
"If the Son sets you free, you will be free indeed" (John 8:36).